Submitted by
Anna
on Tue, 07/26/2022 - 10:38
Faculty Question of the Week
Each week we'll use this space to share a question (or more!) that we've received about Quercus and other Academic Toolbox tools.
This week's question is: "How can I add polls to my MS Teams meeting ahead of my lecture?"
This Week's Faculty Question
Q: I'm planning to use MS Teams Meetings for my online lectures this term and want to use the polling feature. I can only see the option to create polls on-the-fly during a meeting already in progress. Is there a way I can create my polls ahead of time and launch them during the meeting?
A: Yes, it's definitely doable! To set up your polls ahead of your meeting, it's best to schedule your meeting from your Outlook or Teams calendar instead of scheduling directly in Quercus using the MS Teams Meetings integration. Scheduling an MS Teams Meeting in Quercus will not add that meeting to your Outlook or Teams Calendars. On the other hand, your calendar in Teams is connected to your Outlook calendar. In other words, when you schedule a meeting in Outlook, it'll show up in Teams, and vice versa. This is important because you will need to access the meeting from your Teams calendar in order to create the polls ahead of time.
How can you create polls for an MS Teams meeting before the meeting?
Follow the steps below to create your polls ahead of your scheduled meeting.
1. Schedule your meeting in Outlook or Teams Calendar
You can schedule your Teams meeting in your
Outlook calendar
or directly in your
Teams calendar
. An important step in scheduling your meeting is that you need to invite at least one person to the meeting. This could be a TA, for example, or you can even invite yourself as a guest using an email that's different from your
.utoronto.ca
email associated with your MS Teams account. This step is key for bringing up the
Chat with participants
menu described in the next section below.
2. Open the meeting in Teams Calendar and add your polls
In your Teams calendar, select the meeting title.
Select the Chat with participants option.

Select + Add a tab

Search for and select

Forms

or

Polls

from the list of available apps and

Add.

Both Polls and Forms apps currently work the same way in Teams - polls created using either app can be opened with the other app and are saved in your

MS Forms

page. At some point, Microsoft plans to retire the Forms app from Teams and leave only the Polls app, but currently both apps should be available to you.

Select Save and a new Polls tab will be added to your meeting.

From the Polls tab, select +New Poll, then select from the available poll types and settings.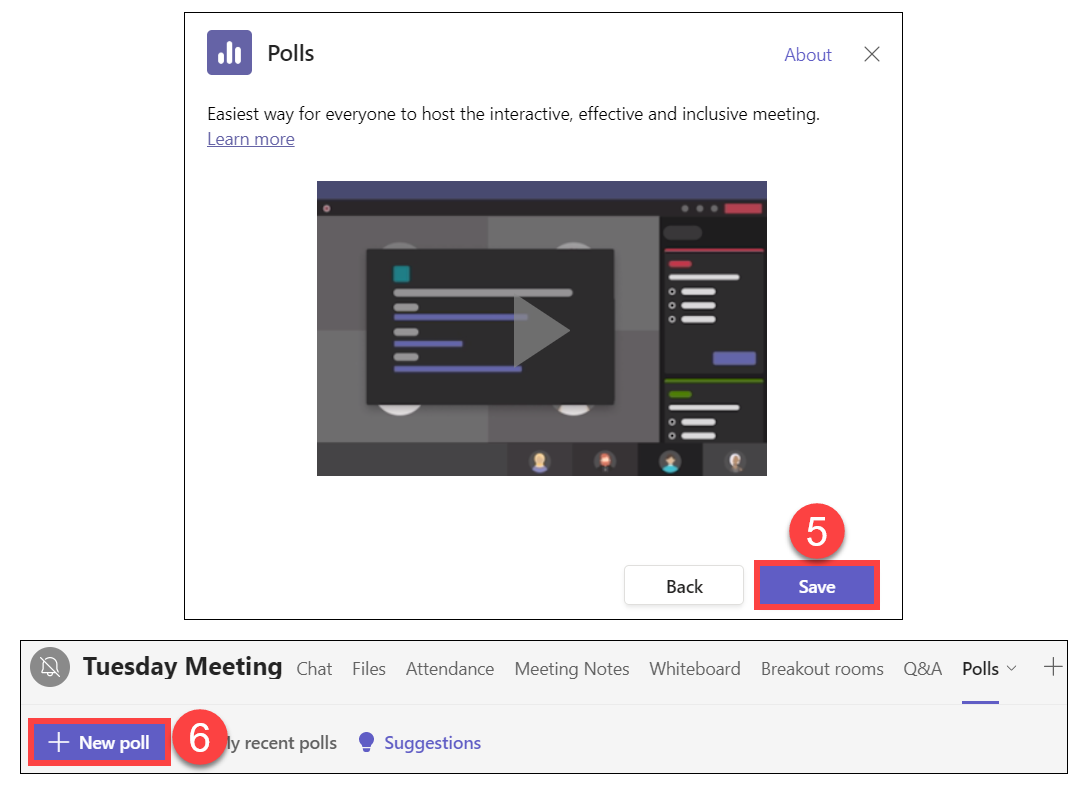 3. Launch the Poll during your meeting
Select the Polls or Forms icon in your meeting window, to open the Polls pane.
Select Launch on the poll for which you want responses.
For additional assistance using polls or other features of MS Teams Meetings in your course, please contact us at fase.edtech@utoronto.ca or book a consultation.
---
Have a Quercus (or EdTech) question? Please contact FASE's EdTech Office.