WHAT IS THE MADE PODCAST?
The MADE podcast is the edited content from a recent MADE community of practice meeting. Produced by Inga, this monthly podcast features interviews with instructors, industry experts, and other members of the MADE community. The goal of the podcast is to share ideas, resources, discover new ways to engage an audience, and troubleshoot common challenges when creating content (video, audio, web, interactive) for academic purposes.
Want to learn more about MADE?
Join the MADE Community
If you're interested in joining the conversation, please fill out the Request to Join M.A.D.E. form and you'll be added as soon as possible. Can't wait to see you there!
Suggest a topic for a future podcast
Have something you'd like to hear discussed in depth? Let us know using fase.edtech@utoronto.ca. Even more? If you are interested in being interviewed for this series, please reach out for brainstorming. We'd love to have you!
Check out the most recent episode of the MADE for U of T Podcast
Ep. 06 | CHRISTY TUCKER | Building a brancking scenario
Listen to Episode 06 | Read the transcript of Episode 06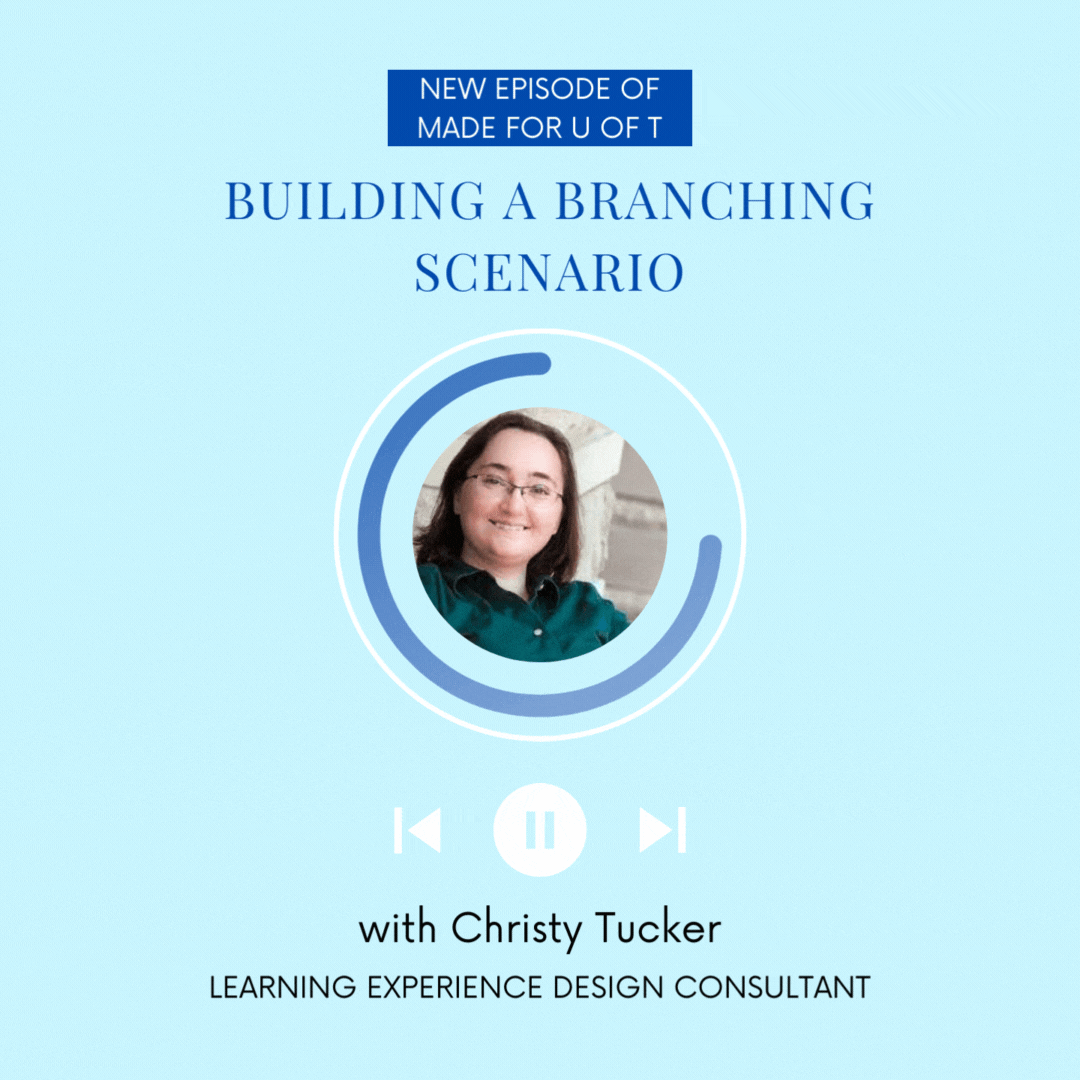 ---
All Podcast Episodes
EP. 05 | STEVEN SCOTT
Listen to Ep. 05 | Read the Transcript of Ep. 05
Starting the Conversation on Media Accessibility | In the fifth episode of MADE for U of T (see all episodes), we hear from Steven Scott, a broadcaster and tech reviewer who is legally blind and has spent most of his adult working life promoting how accessible technology can enable the lives of blind and partially sighted people, as well as the wider disability community. He hosts "Double Tap TV" and a radio show for AMI (Accessible Media) in Canada as well as hosting a daily accessible tech podcast out of the UK called "Blind Guy Talks Tech."
EP. 04 | LAURA MINGAIL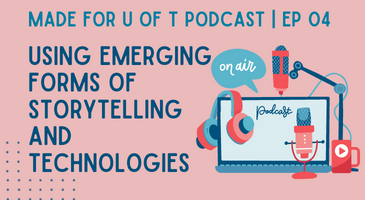 Listen to Ep. 04 | Read the Transcript of Ep. 04
Using Emerging forms of storytelling and technologies | In the fourth episode of MADE for U of T, we hear from the founder of Archetypes and Effects, a company that helps to bring stories to life using emerging forms of storytelling and technologies. Laura shares her thoughts on some important factors to consider before using innovative technologies like augemented reality (AR) and virtual reality (VR) to tell a story. If you are interested to learn more about AR/VR, consider joining the U of T listserv for AR/VR through the Digital Learning Innovation site.
EP. 03 | MATT EVERSON
EP. 02 | CHERYL LEE
Ep. 01 | Dr. Hatzopoulou
Listen to Ep. 01 | Read the transcript of Ep. 01
Pivoting to a virtual shoot | In this first episode of MADE for U of T, we hear from professor Marianne Hatzopoulou and her experience pivoting to a virtual video shoot. Her top tips include writing a script, setting up your space, and the value of tip sheets.