Submitted by
Anna
on Thu, 04/14/2022 - 16:24
Faculty Question of the Week
Each week we'll use this space to share a question (or more!) that we've received about Quercus and other Academic Toolbox tools.
This week's question is: "Why did my student's grade disappear from the Gradebook?"
This Week's Faculty Question
Q: I recently graded all the submissions for an assignment in my course, but one student's grade no longer appears in the Gradebook. I can see the grade in SpeedGrader. I can also see it if I click on the Gradebook cell where I put the grade ([1] in the screenshot attached). However, if I move away from that cell, I just see the little assigment icon with no grade there (as in [2] in the screenshot). Why would this happen?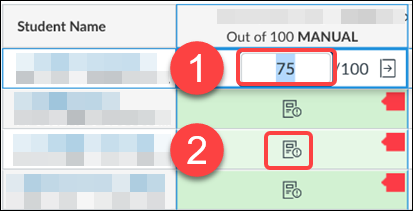 A: The issue you described likely occurred because the student re-submitted their assignment AFTER you had already graded their prior submission. The new submission is, by default, the latest that appears in SpeedGrader. However, since it was not the submission that was graded, it does not show a grade in the Gradebook. This can be a bit confusing because a grade does appear in SpeedGrader, but that grade is not linked to the latest submission until you tell the system that it is by attaching a grade to it. Once you do that, the Gradebook will also update correctly.
What can you do to get the grade to show in the Gradebook?
Use one of the options below to update the grade in the Gradebook:
Select the latest submission and enter a new grade for it in SpeedGrader, or
If you do not want to change the grade shown in the gradebook from the previous submission, select the Use this same grade for resubmission option.
For more information on assignments with resubmissions, please see the following Canvas Instructor guide (the section on Regrading Assignments appears near the bottom of the page):
---
Have a Quercus (or EdTech) question? Please contact FASE's EdTech Office.