Submitted by
Alli
on Tue, 11/09/2021 - 15:03
The ETO Holiday Gift Guide
Looking for a special something for the EdTech-er on your list? Don't worry - we won't tell if its just for you...
It is a common refrain (isn't it?) - what will delight the EdTech-er in my life? Here are some of the fun things that have helped the ETO Team get through the COVID months. You might even find something here that sparks your imagination and makes your teaching (and meeting) a touch easier.This list is certainly not exhaustive and we'd love to hear about items that have worked well for you. And yes, Inga does have Spencer, and we've asked her to track her soldering journey as she pieces the assistant together. (Will its name remain Spencer? I suspect not...stay tuned!)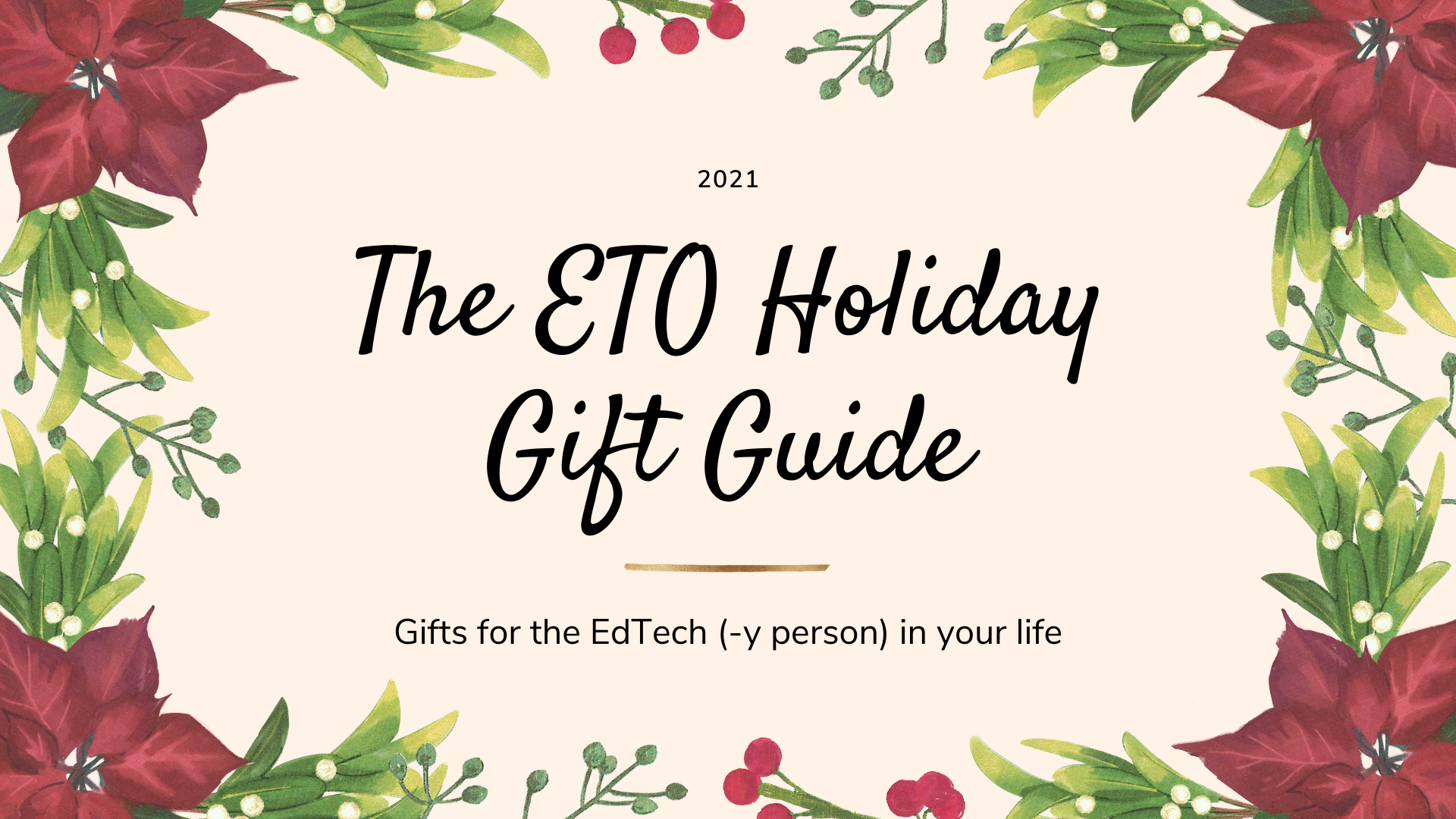 EdTech Gifts for your teaching (and meeting)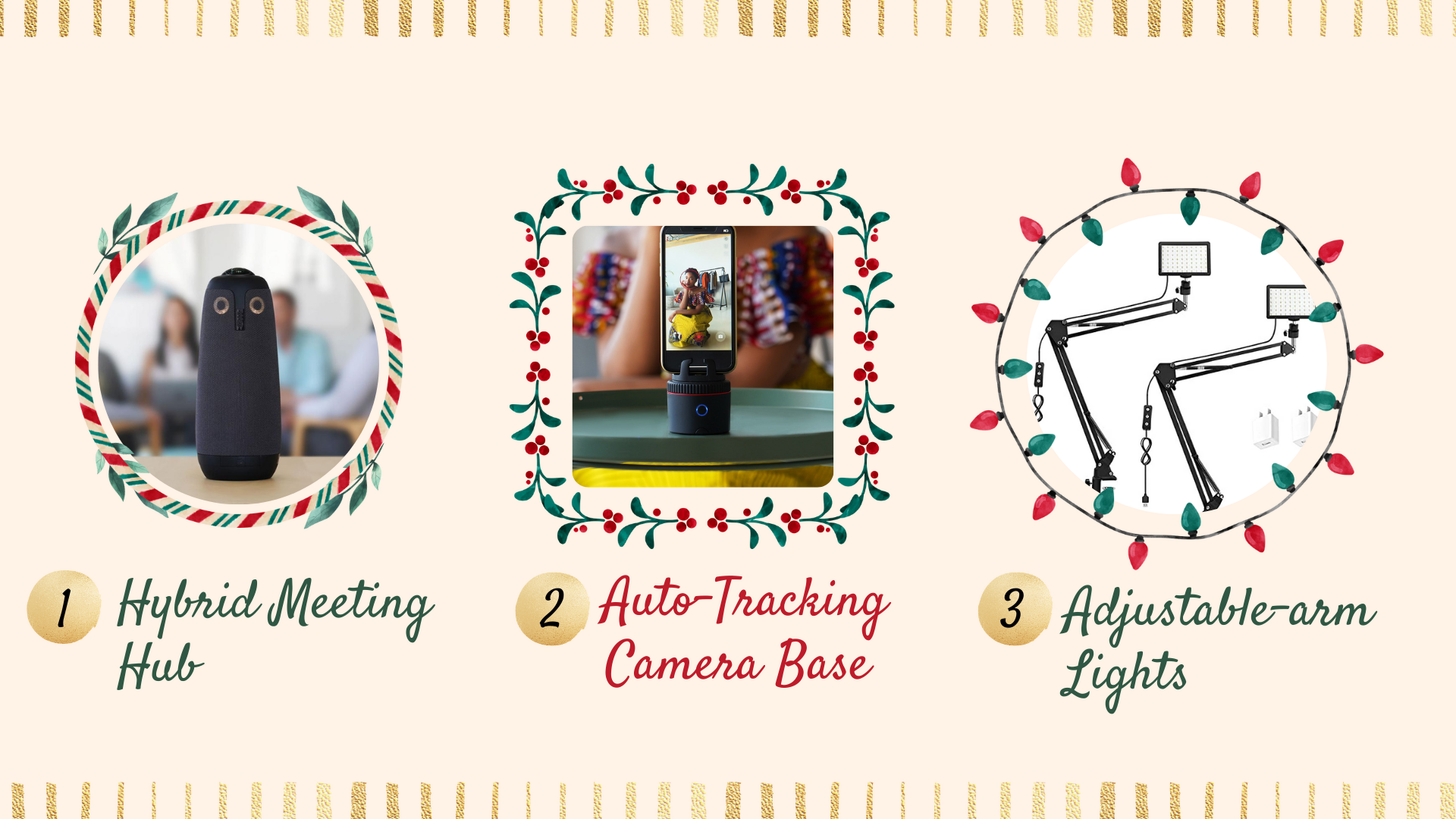 Hybrid Meeting Hub | Suggestions: Meeting Owl Pro: These types of devices can help make multi-person meetings clearer and less chaotic (whether those be smaller team meetings or larger ones!). We like the Owl because the all-in-one device will auto-focus its microphone and camera on whoever is speaking and share this via the webinar tool (for those attending online). No more awkward camera placements, constantly shifting around the hardware for optimal sound - this little bird does it all for you. (Did we mention it looks like an owl? Yeah, I think you get it.)
Smart Camera Mount | Suggestions Pivo | Swivl: Who knew that a device popularized by Tik Tokkers would also be handy for teaching and learning? We use these auto-tracker camera mounts to keep the subject in focus, without a camera operator. You can let your personality shine on camera (or just your camera follows you as you move across a few chalkboards). There's also some built-in presets which make it easy to enhance your video content.
Adjustable Lights | This one I can vouch for! If you're a glasses wearer, ring lights can lead to a super fun reflection (tip: angle your glasses slightly downwards to reduce). These lights are handy both for Zoom calls and self-recording and anything else you can think of, including swinging them around to shine on your closet (or am I the only one whose at home office is multi-purpose?). I suggest getting a two-pack of adjustable lights for lighting balance. The arms are easy to adjust, reduce reflection, and some models come with a few filters to customize your lighting. This type of light is easily available through many electronics retailers.
EdTech Gifts that are just good (STEM) fun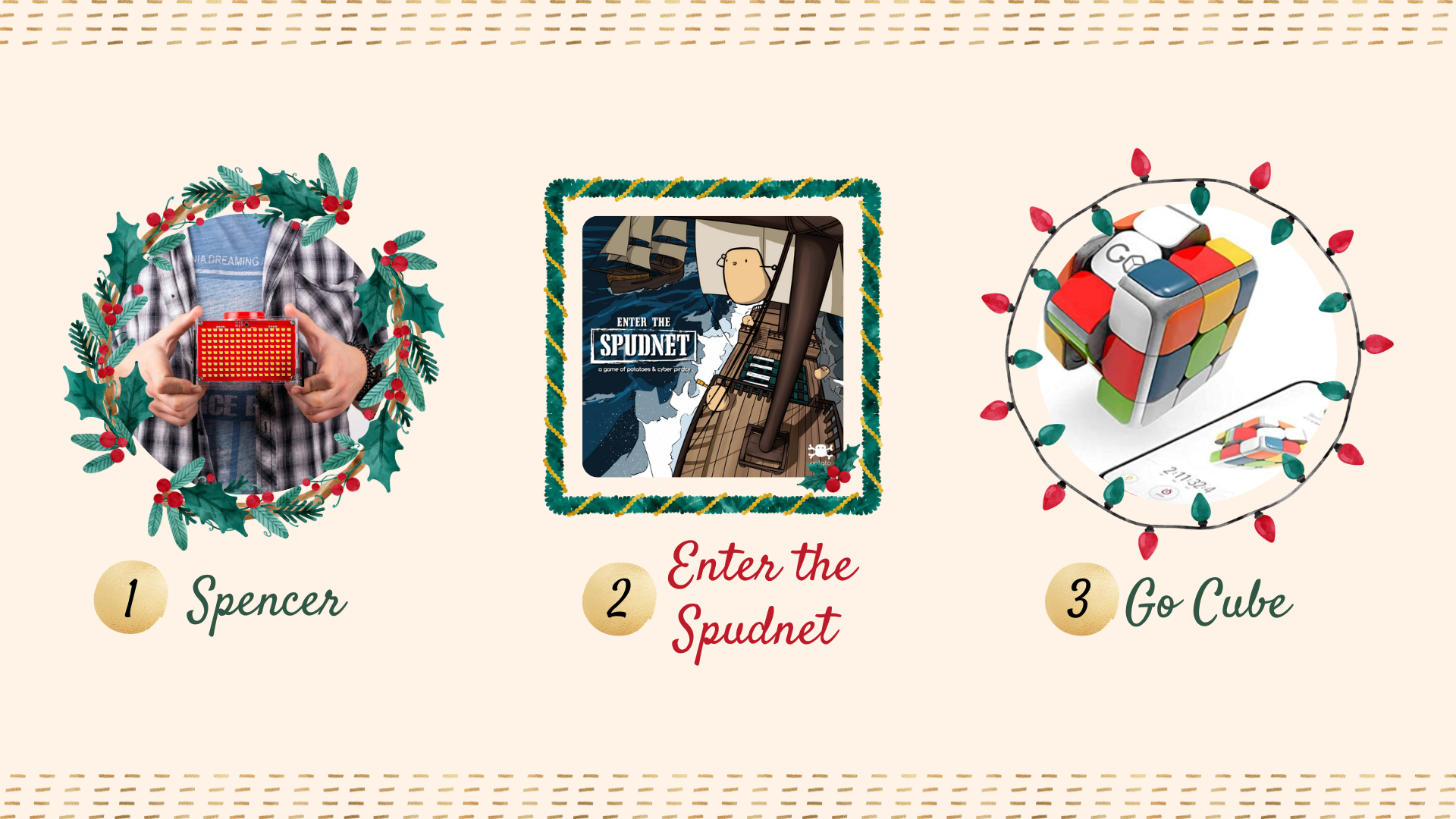 STEM Toys | Suggestion: Spencer: Build your own voice assistant (wait, maybe this could be helpful in teaching!) that features animations on a LED display. No prior know-how is needed; check out Spencer in action! ETO team member Inga will be constructing her own Spencer over the break; we'll report in after!
Board Games | Suggestion: Enter the Spudnet: Who doesn't enjoy some non-computer time while still learning about computers? Enter the Spudnet is a board game (see how to play) inspired by how the Internet works, the possible dangers online and how one can stay safe in the cyber space. The game designers mashed potatoes and networking concepts into this cyber-fueled board game for players to learn about networking and cybersecurity concepts. We think this could be a fun way to educate ourselves about safe online activity.
Fidget Toys | Suggestion Go Cube: The ETO team is a team of problem solvers and puzzle lovers - but we also like to do things effectively! The Go Cube not only satisfies the urge to keep hands busy but also helps you learn how to solve a Rubik's cube (I myself am Rubik's cube disinclined but won't be for long! It's fun to play this brain teaser against yourself or compete online against friends.