Submitted by
Alli
on Wed, 05/25/2022 - 12:57
Stuff we learned from UofT Conferences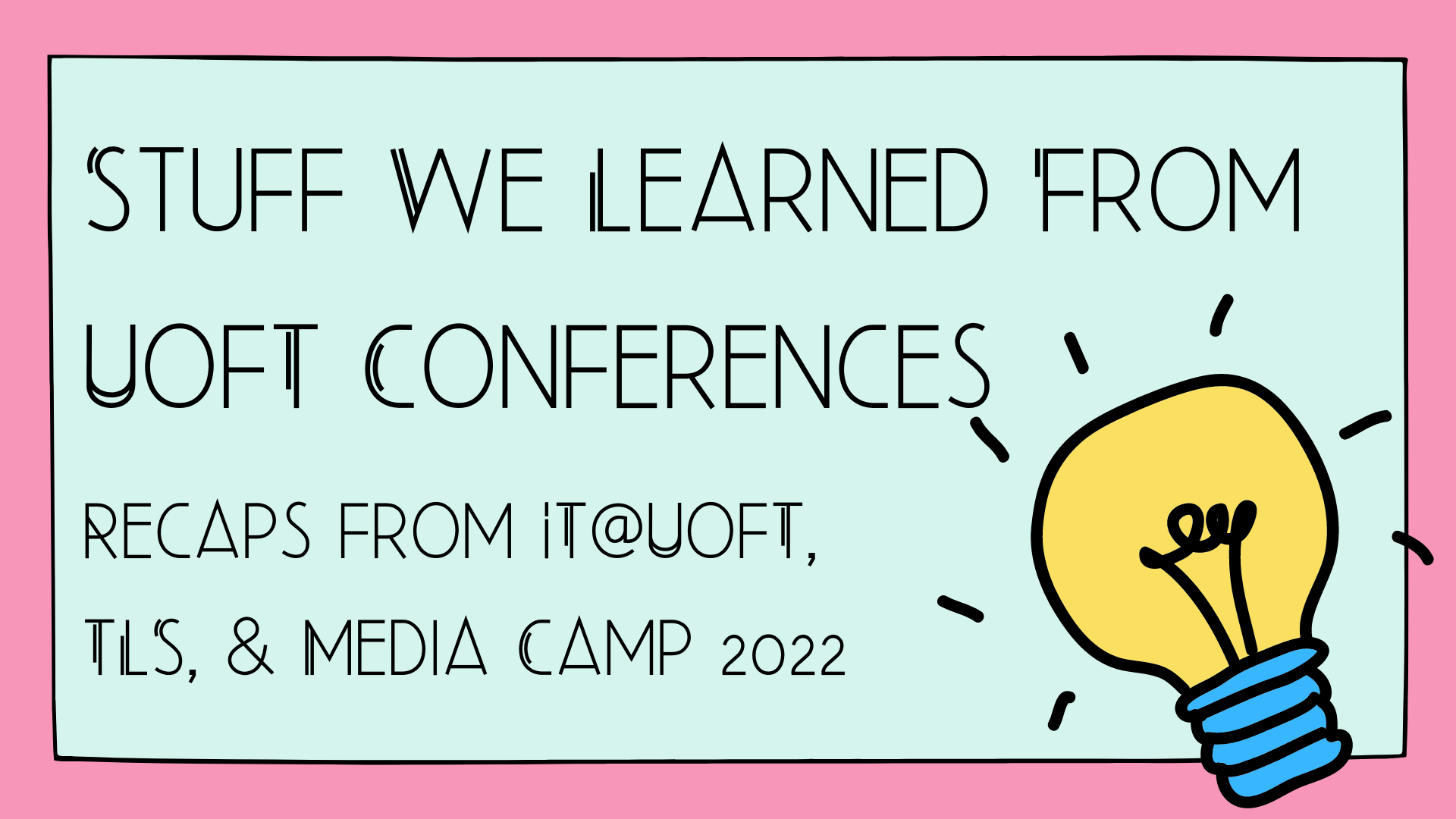 Spring is conference season! The ETO team attended a few University of Toronto conferences, including the Teaching and Learning Symposium (TLS), the IT@UofT conference, and Media Camp 2022.
Key points we'll take with us
We each pulled out memorable moments from the conferences (some were so "lightbulb-y" that they led to their own extended blogs, coming in June!) to share. Below, expand the accordion items to see each ETO staff member's key takeaway.
Session Information: Interactive Online Workshop: Accessibility in Online and Hybrid Learning Environments – Moving Forward by Looking Back | Irene Sullivan, Neurological Team Lead and Accessibility Advisor, ; Samahra Zatzman, Accessibility Advisor; Shayna Goldberg, Accessibility Advisor; Mary Damianakis, Accessibility Advisor; Brittany Van Beilen, Accessibility Advisor; Sarah Goodfield Weinstein, Accessibility Advisor (from the Teaching and Learning Symposium)

Reflection by: Anna Limanni

The facilitators highlighted that the move to an online and (more recently) a hybrid learning model has created both challenges and opportunities for accessibility. The challenges presented by the workshop facilitators often arose from elements of course design (unclear or inconsistent layout, navigation, and organization of content), assessment design (in particular selection of option that doesn't allow students to review an entire quiz or go back and forth between questions), and using many tech tools simultaneously. The opportunities have included the ability to access content asynchronously- in particular, students appreciate being able to revisit recorded lectures and pause the recordings to take notes. Online lectures also offered students alternate ways to participate in class (e.g., via chat) as well as, more generally, more control over their learning environment.

Two key takeaways for me from the session are:

Accessibility needs to be built proactively into the design of all courses from the start. Clear and consistent course navigation and organization, transparency in assessment design, and thoughtful integration of tech tools into a course - these things benefit everyone (not just students registered with accessibility services).
In the transition back to in-person learning, it's important to keep the online strategies and tools that helped students learn. For example, even in an in-person environment, students can be given the opportunity to participate and ask questions through alternate means, not just by speaking up in front of their peers (e.g., via a classroom response tool or an open Q & A in Piazza or Ed Discussion).

Want to learn more?

Session Information: 2.3 Lightning Talks: "Designing for better connections in online spaces": Tutorials on Demand | Catherine Barrette & Katherine Hovdestad (from the Teaching and Learning Symposium)

Reflection by: Kaththigan Pushparaj

What I'll remember from this presentation is how student feedback was filled with appreciation for the flexibility and engaging format that "on-demand" tutorials offer.

Reflecting on the advantages and disadvantages of different formats of content delivery will form a greater part of my work because this talk demonstrated how delivery formatting can influence on student engagement (By creating reusable, tutorial videos that extended beyond standard lecture-style recordings, student engagement in tutorials increased).

Watch this video for more information about Tutorials on Demand. The ETO can also offer guidance on content creation.

Session Information: Content Creation: Visuals | Madeleine Mant, Jodie Jenkinson, Chen Wang (from Media Camp 2022)

Reflection by: Cheryl Heeyeon Lee

Big focus of Media Camp was to provide a high-level introduction to media work for researchers and staff. In the Content Creation: Visuals session, the presenters shared their experience and expertise about the creating compelling visualization for their research. While their preferred artistic medium had differed – from costume-making to data-visualization, they shared a common method for starting – it starts with a story. What is it that you want the media to know about your research? Is it providing a detailed view of a novel invention to interest potential collaborators? Are you providing a general overview of how your research can be applied?

We can extrapolate this method to creating engaging educational media for our learners – what is it that you want your learners to understand by looking at this piece of visualization? Having a clear learning objective will ensure that your data is easily understood by your learners and direct the design of the visualization.

The presenters also flagged an issue we hear about a lot – the time it takes to make these illustrations! They suggested recruiting some student help – not only can they help with the creation, but also provide feedback from the student's perspective. It reminded me that I want to make sure that our FASE community knows that they can always come to us about this type of project too!

Session Information: Content Creation: Audio | Sonia Kang (Management, UTM), Carla DeMarco (Dean's Office, UTM), Mio Adilman (Pacific Content) (from Media Camp 2022)

Reflection by: Inga Breede

I was particularly interested in this session to learn how I can improve the podcast series that I do for the MADE community. One tip that I will try for future episodes is to make the introduction to the episode more interesting and to-the point. Mio Adilman stated that you need to get the listener interested within the first two minutes or you lose them.

A key point from this session that stuck with me is that audio is a dynamic medium that adds a personal touch. That's something that doesn't transfer over with text only.

Did you know? U of T has a webpage dedicated to podcasts produced by/for the U of T Community. It's a good place to start to have a listen to not only the content, but how the content is produced.

Session Information: Best practices for document storage in M365: What to use when | Heather Postill, Senior Information Analyst, EASI (from IT@UofT Conference)

Reflection by: Irina Belaya

This session covered an overview and features of OneDrive, Teams and SharePoint, as well as recommendations on what to use and when for document management needs. In a nutshell, you can use:

OneDrive to securely store up to 1 GB of personal files or documents that only you are working on.
Microsoft Teams is great when you need to collaborate with different co-workers on shared initiatives and projects.
SharePoint is great for storing files in the cloud and making them accessible to a broad audience and you can take advantage of robust file permission management, retention policies, and more.

The main take away from the session is that we don't have to use just one tool to get work done — all these three tools are interrelated and work together to provide optimal productivity.

The UofT community, including our office, can certainly take advantage of the security, wide range of features and simplicity of Microsoft 365 storage tools, be it personal OneDrive for storing drafts and files, Teams to share documents with colleagues or SharePoint sites to store large files and information that might require different permission levels.

More details are available on SharePoint Support Centre website; you can also request a consultation through that page.

Session Information: Comparing assessments outcomes: in pursuit of equitable & accessible evaluations | Elham Marzi, Assistant Professor

Reflection by: Prianka Murthy

A key conversation from the session was a discussion on the pros and cons of conducting open-book assessments online vs. closed-book supervised assessments. A leading perspective in favour of using open-book assessments that resonated with me was that a closed-book assessment may test skills that are not required to be tested, such as memorization.

Something I was made aware of in this session is the prevalence of academic integrity concerns in online assessments. As a student, I have sometimes questioned why in-person assessments were favoured over online assessments in certain courses or why the supervised exams were weighted heavily in comparison to take-home assignments. This is something I will be more understanding of going forward.

This discussion was in the context of accessibility and equity. The Accessibility Services Office may be able to provide more information about accessibility concerns in the context of evaluations. Their email is accessibility.services@utoronto.ca.

Session Information: Content Creation: Audio | Sonia Kang (Management, UTM), Carla DeMarco (Dean's Office, UTM), Mio Adilman (Pacific Content) (from Media Camp 2022)

Reflection by: Marisa Curmi

A key point that I remember from this session is that podcasting is a unique form of storytelling that can serve us in many interesting and valuable ways. Whether it's used as a teaching or knowledge transfer tool, for collaboration or for artistic endeavors, it can be a great vessel for getting information out there. One of the panelists made an interesting comment about how there is a personalization in audio that you can't always get with text. It's more dynamic, and as a podcast listener, I completely agree with that.

Each panelist walked the audience through their own podcast experiences and from that, I gained a lot of insight into what the process of creating your own podcast is like, both from a storytelling perspective and from a technical perspective as well. Hearing about their experiences, what worked and what didn't, the challenges they faced and how they overcame obstacles will shape how I might approach working on a podcast, should the opportunity present itself in the future.

Follow up resources:

Session Information: 6.1.3: Developing students' ability to modulate register to different audiences | Nathalie Moon, Liza Bolton, Rebecca Christensen, Michael Moon, & Marija Pejcinovska (from the Teaching and Learning Symposium)

Reflection by: Allison Van Beek

The teaching team leading this session designed an assessment for a pretty specific outcome - that they could demonstrate that they could communicate complex statistical ideas to everyone (technical and non-technical audiences). Further, they had to do this effectively and achieve their communication goals (e.g. that people could understand what they were presenting via their data).

They very effectively proved the challenge of explaining complex ideas using XKCD's Simple Writer checker. During the session, they asked each participant to take something they'd typically teach their students and try to explain it using only the 1000 (well, you have to say "ten hundred" because the word "thousand" doesn't make the list) most common words.

I started with (bolded words indicate words that are not on the 1000 word list):

To help learners orient themselves within the content, each instructional video should have a narrative.

You keep trying until no words are bolded. I ended with up:

To help people see within the stuff, each teaching bit should have a story.

This resonated with me because we're often so deep in our domain jargon that we forget that what we think is common is...not so common at all. I liked the statement that I ended up with and will keep in mind how to say things simply (while knowing that sometimes a more complex word is useful, as long as everyone knows the context).
---
A huge thank you to the organizing teams of these conferences (see the TLS organizers, IT@UofT Committee, and scroll down to the UTM co-leads) - I hope you're still on vacation! - and already looking forward to next year.