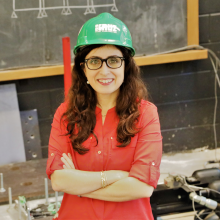 Preferred Pronouns: She/her
Role on Project
:
Instructor, Subject Matter Expert
Position Title: Associate Professor
Department
:
Department of Civil & Mineral Engineering (CivMin)
Institution
:
University of Toronto
Dr. Oya Mercan is an Associate Professor and Edwin Edward Hart Professor of Civil and Mineral Engineering at the University of Toronto. She received her Ph.D. in Civil Engineering from Lehigh University in 2007. Dr. Mercan was an Assistant Professor at the University of Alberta until 2010, until she moved to her current position at the University of Toronto. Dr. Mercan's research interests are in developing and implementing real-time testing methods that couple computer simulation and physical testing with applications investigating the dynamic behaviour of complex structures; vibration mitigation and structural control; modular steel structures and wind loading under climate change. In addition to research, Dr. Mercan teaches several courses in mechanics, structural analysis and dynamics at the undergraduate and graduate levels. She is also the founding director of the Centre for Climate Science and Engineering (CSE) at the University of Toronto (uoftcse.ca).