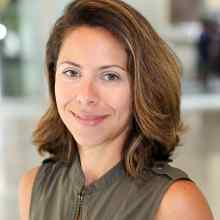 Preferred Pronouns: she/her
Role on Project
:
Content Developer, Instructor, Subject Matter Expert
Position Title: Professor
Department
:
Department of Civil & Mineral Engineering (CivMin)
Institution
:
University of Toronto
Marianne Hatzopoulou is Professor in the Department of Civil and Mineral Engineering at the University of Toronto. She leads the Transportation and Air Quality (TRAQ) research group studying the interactions between transportation, air quality, climate change, and public health. Dr. Hatzopoulou has over 130 journal publications on the topics of traffic-related air pollution. She received funding from provincial, federal, and international agencies to conduct integrative research in transportation engineering, air pollution, and public health. Dr. Hatzopoulou held a Tier2 Canada Research Chair in Transportation and Air Quality (2013-2021) and a Natural Sciences and Engineering Research Council (NSERC) Discovery Accelerator Supplement (DAS) (2016-2019), an award recognizing research programs that are highly rated for originality and innovation. She is on the Canadian team of researchers who were the 2021 recipients of the NSERC Brockhouse Canada Prize for Interdisciplinary Research in Science and Engineering. Since 2012, she has been serving on the Transportation Research Board of the National Academies of Sciences, Engineering, and Medicine as the committee research coordinator for the standing committee on "Air Quality and Greenhouse Gas Mitigation". She is also an associate editor of the journal Transportation Research Part D: Transport and Environment. She supported municipal governments and community groups in the appraisal of transportation policies in terms of climate and air impacts and served on national and international expert panels, providing advice on the development of strategies to reduce transportation-related emissions.
Learn more about how Prof. Hatzopoulou's production experience in Episode 01 of the M.A.D.E podcast.