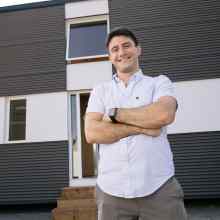 Preferred Pronouns: he/his
Role on Project
:
Project Coordinator, Subject Matter Expert
Position Title: Project Manager
Department
:
Department of Civil & Mineral Engineering (CivMin)
Institution
:
University of Toronto
Jamie Fine received his PhD from the Ryerson Department of Mechanical and Industrial Engineering in August 2018, and was a Post Doctoral Fellow at the University of Toronto Building Energy and Indoor Environment Lab from September 2018 to December 2021. His research focused on topics including hybrid solar collectors, building HVAC system retrofits, ground source heat pumps, and building ventilation and air flow modelling. Jamie was also the manager of the University of Toronto Centre for Climate Science and Engineering from July 2020 to December 2021 where he helped develop educational content, outreach programs, and online learning modules. Currently, Jamie is a Senior Energy Consultant at RWDI where he works to design and analyze new and existing building, and large development, energy systems such that they can achieve project sustainability goals, reduce project costs, and reduce GHG emissions.