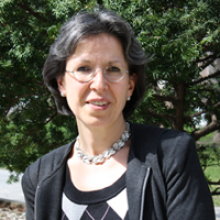 Position Title: Associate Professor
Department
:
Department of Civil & Mineral Engineering (CivMin)
Institution
:
University of Toronto
Brenda McCabe is a tenured faculty member in the Department of Civil Engineering at University of Toronto and has been a registered PEng in Ontario since 2002. She has been involved in many aspects of curriculum development at both the undergraduate and graduate levels, including external program reviews and program/course design. She serves on the Engineering Advisory Committee for the University's School of Continuing Studies. Previous administrative roles include Associate Chair Undergraduate Studies 2004-2006, Vice Dean Graduate Studies 2006-2007, and Department Chair 2008-2013.
From this author
Digital Object Types: Modules

| Title of Resource | Part of | Description |
| --- | --- | --- |
| Engineering Drawings for Buildings and Facilities (Storyline File) | Introduction to Graphic Communication | This Articulate Storyline File can be downloaded and modified to your specific learning objectives (within the bounds of the creative commons licensing selected for this file). To use this file, you must have installed Articulate Storyline Version 2.0. Any technical issues are not supported by the University of Toronto. |
| Engineering Drawings for Buildings and Facilities (SCORM Package) | Introduction to Graphic Communication | This Articulate Storyline File can be downloaded and modified to your specific learning objectives (within the bounds of the creative commons licensing selected for this file). To use this file, you must have installed Articulate Storyline Version 2.0. Any technical issues are not supported by the University of Toronto. |
| Engineering Drawings for Infrastructure (SCORM Package) | Schedules, Assemblies, and Drawing Set | This SCORM package is the production version of this module. To use it, you must upload it into your institution's Learning Management System (or onto another platform that hosts and plays SCORM packages). Once uploaded, you can specify the settings for this module for your particular use within your class. Students will access this module from your institution's course environment. |
| Engineering Drawings for Infrastructure (Storyline File) | Schedules, Assemblies, and Drawing Set | This Articulate Storyline File can be downloaded and modified to your specific learning objectives (within the bounds of the creative commons licensing selected for this file). To use this file, you must have installed Articulate Storyline Version 2.0. Any technical issues are not supported by the University of Toronto. |
| Evolution of Engineering Drawing Formats (SCORM package) | Views, Sections and Layout | This SCORM package is the production version of this module. To use it, you must upload it into your institution's Learning Management System (or onto another platform that hosts and plays SCORM packages). Once uploaded, you can specify the settings for this module for your particular use within your class. Students will access this module from your institution's course environment. |
| Evolution of Engineering Drawing Formats (Storyline File) | Views, Sections and Layout | This Storyline File can be downloaded and modified to your specific learning objectives (within the bounds of the creative commons licensing selected for this file). To use this file, you must have installed Articulate Storyline Version 2.0. Any technical issues are not supported by the University of Toronto. |
| Introduction to Engineering Drawings (SCORM Package) | Introduction to Engineering Drawings | This SCORM package is the production version of this module. To use it, you must upload it into your institution's Learning Management System (or onto another platform that hosts and plays SCORM packages). Once uploaded, you can specify the settings for this module for your particular use within your class. Students will access this module from your institution's course environment. |
| Introduction to Engineering Drawings (Storyline File) | Introduction to Engineering Drawings | This Articulate Storyline File can be downloaded and modified to your specific learning objectives (within the bounds of the creative commons licensing selected for this file). To use this file, you must have installed Articulate Storyline Version 2.0. Any technical issues are not supported by the University of Toronto. |
| Introduction to Project Scheduling (SCORM Package) | Introduction to Project Scheduling | This SCORM package is the production version of this module. To use it, you must upload it into your institution's Learning Management System (or onto another platform that hosts and plays SCORM packages). Once uploaded, you can specify the settings for this module for your particular use within your class. Students will access this module from your institution's course environment. |
| Introduction to Project Scheduling (Storyline File) | Introduction to Project Scheduling | This Articulate Storyline File can be downloaded and modified to your specific learning objectives (within the bounds of the creative commons licensing selected for this file). To use this file, you must have installed Articulate Storyline Version 2.0. Any technical issues are not supported by the University of Toronto. |
| Project Controls (SCORM Package) | Project Controls | This SCORM package is the production version of this module. To use it, you must upload it into your institution's Learning Management System (or onto another platform that hosts and plays SCORM packages). Once uploaded, you can specify the settings for this module for your particular use within your class. Students will access this module from your institution's course environment. |
| Project Controls (Storyline File) | Project Controls | This Articulate Storyline File can be downloaded and modified to your specific learning objectives (within the bounds of the creative commons licensing selected for this file). To use this file, you must have installed Articulate Storyline Version 2.0. Any technical issues are not supported by the University of Toronto. |